The Pet Shop
CATEGORIES
Filters
Shops
Find and help keep your cat safe with the Tabcat cat tracker. Its more accurate than GPS, has a long range, no ongoing costs and a money back guarantee!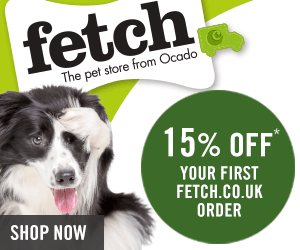 Fetch, the pet store from Ocado, is a standalone online pet store currently stocking more than 8,000 products, ranging from food and treats to specialist healthcare, toys, bed accessories, and much more. The website caters for a whole host of animals including dogs, cats, birds as well as smaller animals including rabbits, guinea pigs and chickens.
Show +

Save Up to 20% on Selected Natural Food Lines
Show +

Free Next Day Delivery ...
Show +

15% Off Your First Shop
Etsy is a marketplace where people around the world connect to buy and sell handmade and vintage goods.
The Range is a chain of department stores spread around the UK. It has products ranging from DIY, Homewares, Furniture, and Lighting to Arts & Crafts and Garden.
From our modest beginnings in Enfield as a single store in 1971, Jollyes has grown into one of the largest chains of pet food superstores with 61 Jollyes and Jollyes Petzone stores across the UK and Northern Ireland. You can find anything for your pet, from pet food, pet toys and an array of pet accessories.
Pets at Home offers the ultimate pet shop experience. We have all the pet supplies, pet food, toys and accessories you and your pet need at great value prices. Our online pet shop has a great range of over 2000 pet supplies including dog food, cat litter, rabbit hutches and much more!
QD Stores is a major UK discount retail outlet that stock a huge range of quality discount items, from furniture, homewares and electrical goods, to toys, clothing and pet supplies. QD's low profit margin strategy ensures that most items for sale on the QD website are highly price competitive, with very few merchants able to beat them on price.
Show +

10% Off Selected Gardening Equipment
Show +

10% Off Selected Beds and Mattresses
Show +

Save £3 with a £55 spend
Show +

Save 5% with a £120+ spend
Show +

Save £5 with a £85 spend
Northampton Reptile Centre was established 20 years ago and is regarded as one of the country's leading reptile specialist stores. When you walk around Northampton Reptile Centre, talking to the team, it's evident that the animal welfare is taken personally. They educate and guide all customers on habitats, welfare and correct dietary needs to ensure their reptile pet prospers.
The UK's only value garden centre. Homeware, Garden & Outdoors, Pet Supplies, Toys & Games and Electrical Appliances.
Show +

10% Off Selected Garden Chemicals
Show +

10% Off Selected Gardening Equipment
Show +

Save 5% with a £150+ spend
Show +

Save £6 with a £90 spend
Show +

Save £4 with a £70 spend
At Waitrose we always strive to bring you the finest products from caring, quality suppliers. Waitrose Pet in partnership with Monster Pet Supplies is an online pet store that has everything for your pet, from food supplies to the latest must-have products and accessories.