High Street stores in Jewellery
CATEGORIES
Filters
Shops
Astrid & Miyu design unique yet wearable quality design jewellery.
Hersey & Son is one of the few remaining traditional silversmiths in the UK. Manufactured by hand in our London workshop our sterling silver jewellery, homeware and silver gifts have been a trade secret for nearly 70 years. Prices start from £20.
Established in 1901 Havens are specialist retailers in quality china, glass, gifts and homewares. Havens is still very much a family business. They used to trade from a department store in Westcliff-on-sea Essex but are now trading exclusively online.
David Shuttle Ltd has been trading in Fine Dining, Gifts and Jewellery for more than 30 years. We have established ourselves as one of the UK's largest retailers of Swarovski Crystal, Riedel Crystal, Emma Bridgewater and Lalique to name but a few.
View all 6 Offers
Skinnydip London look beyond what's been done before to find something exciting and new. They are a London-based lifestyle brand whose designs are inspired by everything around them. They are constantly on the hunt for the next big thing. They don't just create fashion accessories for the cool and the kind, they try hard to make a change in the world for the better.
Acotis Jewellery is a leading provider of stunning designer jewellery and accessories in the UK. We source our products from some of the region's most-respected designers.
Studio offers the latest fashions, cards and wrap, gifts, toys, household and electrical goods. We also offer hundreds of products that can be personalised at no extra charge, including cards, toys and gifts as well as many clothing items.
Swarovski - The Magic of Crystal
The multifaceted cosmos of Swarovski Crystal never ceases to fascinate with new surprises. New Swarovski products are launched regularly throughout the year, so don't miss out! All of the new products from Swarovski Giftware (Silver Crystal, Crystal Moments and Crystal Paradise), Crystal Decor and Daniel Swarovski Home Accessories, Swarovski Jewelry and Accessories are now available online.
Free giftwrapping.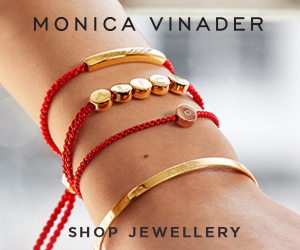 Award winning jewellery brand Monica Vinader is the brand of choice for elegant and wearable jewellery.

Shop for the Fiji bracelet, stackable rings, personalised jewellery and other gift ideas.

See the selection of bracelets and pendants which you can have engraved - for free!
Show +

Receive Free global Delivery
Buy jewellery online from the high-street chain.