High Street stores in The Pet Shop
CATEGORIES
Filters
Shops
Pet Supermarket is the UK's largest online Pet retailer catering for Dogs, Cat, Fish, Small Animals and Birds which holds more than 4,000 in-stock products.
Etsy is a marketplace where people around the world connect to buy and sell handmade and vintage goods.
The Range is a chain of department stores spread around the UK. It has products ranging from DIY, Homewares, Furniture, and Lighting to Arts & Crafts and Garden.
From our modest beginnings in Enfield as a single store in 1971, Jollyes has grown into one of the largest chains of pet food superstores with 61 Jollyes and Jollyes Petzone stores across the UK and Northern Ireland. You can find anything for your pet, from pet food, pet toys and an array of pet accessories.
Show +

Free Shipping on Orders Over £39 ...
Show +

Sign up To Jollyes Pet Club Today and Receive 500 Points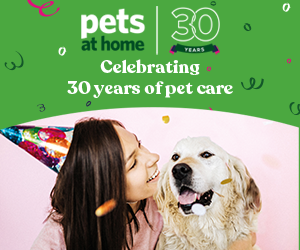 Pets at Home offers the ultimate pet shop experience. We have all the pet supplies, pet food, toys and accessories you and your pet need at great value prices. Our online pet shop has a great range of over 2000 pet supplies including dog food, cat litter, rabbit hutches and much more!
QD Stores is a major UK discount retail outlet that stock a huge range of quality discount items, from furniture, homewares and electrical goods, to toys, clothing and pet supplies. QD's low profit margin strategy ensures that most items for sale on the QD website are highly price competitive, with very few merchants able to beat them on price.
Show +

Save £10 with £200+ spend
Show +

Save £5 with £70+ spend
Show +

Save £3 with £40+ spend
Northampton Reptile Centre was established 20 years ago and is regarded as one of the country's leading reptile specialist stores. When you walk around Northampton Reptile Centre, talking to the team, it's evident that the animal welfare is taken personally.
They educate and guide all customers on habitats, welfare and correct dietary needs to ensure their reptile pet prospers.
Show +

Order before 12pm and get free next day delivery on orders over £79
Show +

100s of reptile products reduced in price
Show +

Start a Livefood Subscription & Get a FREE care kit
Show +

Apply for 0% Interest-free credit available on orders over £250
Show +

Get a free ProRep Jelly Pot with any livefood purchase
The UK's only value garden centre. Homeware, Garden & Outdoors, Pet Supplies, Toys & Games and Electrical Appliances.
Show +

Save £15 with £250+ Spend
Show +

Save £8 with £160+ Spend
Show +

Save £4 with £55+ Spend
From the founder of LOVEFiLM and graze.com, tails.com is one of the UK's most exciting new companies and the fastest growing in the pet industry, they are revolutionising the way people feed their dogs.

How are they doing this? With tailor-made pet nutrition for every pet.

Tails believe that every dog should be fed with food that is as unique as they are. Tell them about your dogs and Tails design every single bag of food specifically for each of them, based on their individual needs. They then blend each dog's food by hand and deliver it for free, saving you carrying heavy dog food back from the shops.
Show +

60% off first order
A chain of pet superstores.