Rugby
Filters
Shops
Badminton, basketball, boxing, croquet, tennis, soccer, netball, pool, trampolines, table football, golf, squash, swimming, sailing, snooker, table tennis, rugby, fitness and cricket. Find a huge range of clothing, accessories and equipment with special offers and free delivery. Each sport has a separate department, once you enter the department you'll find all the items listed down the left side of the page and specials on the right. Don't be put of by the lack of anything in the centre of the page!
Golf
Balls, clubs, full sets, bags, clothing, shoes and a full range of accessories.
Fitness
Dumbells and weights, rowing machines, exercise bikes, treadmills, body fat monitors, heart rate monitors and lots, lots more.
Show +

5% off all Proform Products
Show +

7% off all Tennis Rackets
Show +

6% Off Badminton Rackets
Show +

5% off all NordicTrack Products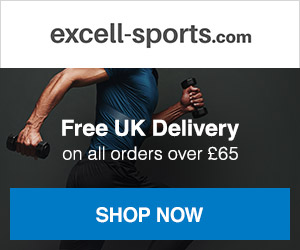 Shop designer sportswear, branded training equipment and sports clothes at Excell Sports.
Cotton Traders provide a huge range of leisure clothing, footwear, exclusive licensed product ranges for big names like BUDWEISER & GUINNESS, classic ruggers and team replica shirts, along with nightwear, bedding and other household textiles. The company are still very active in the rugby world, providing a range of 'tough as the game' rugby Teamwear, and as official suppliers to Leicester, Gloucester, Sale Sharks and Barbarians, among others.
M and M Direct stock a wide range of the leading branded merchandise including Nike, Reebok, Adidas, Helly Hansen, Timberland and more.
Fitness equipment, sports equipment, sports and fashion clothing and accessories for men, women and children.
A HUGE range of football boots, sports shoes, trainers and sportswear. Sports Shoes is the largest sports shoes retailer in the world. They stock over 20000 sports shoes covering 4000 different footwear styles including all the latest designs from the leading brands including Nike, Puma and Adidas. So whether you're looking for casual trainers, running shoes, football boots or sportswear, make this site your first stop.

Now stocking Nike team kits and Diadora team kits.
This sportswear site has a huge range. Find brands such as: Reebok, Nike, Umbro, Fila, Diadora, Kappa, Cotton Traders, Canterbury, Mizuno, Puma, Asics and Toffs. The ranges include Formula 1, NFL American Football, Training & Leisurewear and Kids along with Rugby, Cricket and of course, Football.
Mitre is one of the leading brands worldwide for sports equipment with Mitre footballs being the footballs of choice for the English League.
Visit Lovell Rugby for great prices on rugby shirts, rugby boots, base layer clothing, rugby equipment, headguards and protection, under armour, rugby protection, head gear, rugby balls and rugby shorts from major brands such as Nike, adidas, Puma, Kooga, Asics, Mizuno, Nomis, Canterbury, Gilbert, Joma, Kooga, Umbro, Under Armour and Optimum.
Canterbury is recognised as the rugby authority, making the best rugby gear in the world. The spirit of rugby is etched into the toughness and quality of every Canterbury product.
Shop for the latest equipment and fashion from Adidas, Nike, Puma, Barbour and more! Your first choice for apparel for Football, Rugby, Golf and Tennis.