Latest Articles
Products on The UK High Street
Log in
to change this to a selection from your favourite shops.
Most Popular Shops Today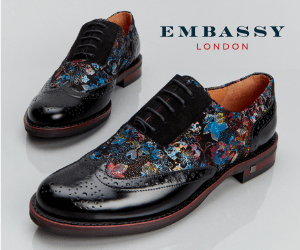 Shoe Embassy specialises in both Ladies' and Men's footwear that is exclusively made in Europe from the finest European leather.
View all 5 Offers
Established in 1976, the Japan Centre Food Hall is a well-loved institution situated in Central London with an outpost in Westfield Stratford City. In 2005 Japan Centre Online was launched to bring the store experience to those living outside London and the UK.
View all 3 Offers
Habitat prides itself on offering affordable and stylish products to you in an individual way. Many of their lines are created exclusively for Habitat by world class designers, so you won't find them anywhere else!

From beautiful sofas, chic home accessories, outdoor furniture and children's toys, they've got just the thing for you.
Flipper is an auto energy switching service. We Flip energy, We automatically switch you to the best gas and electric deals. Put energy bills out of your mind, once and for all.
Originally founded in 1950 as a general store, their first bed centre was opened in 1972. In 2011, the new Bensons for Beds business was launched, merging the existing Bensons for Beds, Sleepmasters and Bed Shed brands under one umbrella. Bensons for Beds now has over 270 stores nationwide, including new Comfort Station concept stores and some stores located within Harveys, one of their Steinhoff Group partners.
In our huge range of products you will find the biggest range of cross stitch kits available in the UK plus books, charts, materials and accessories. With over 50,000 products in stock and available to buy online we have everything for the cross stitcher and needlecrafter.
View all 1 Offers
Wiltshire Farm Foods is a ready meal delivery service, delivering their delicious range of frozen ready meals and desserts across the UK. Ordering is easy, food delivery is included in the price, and the service is second to none!

Healthy eating is so important for us all so they make sure each meal is balanced, nutritious and full of flavour. They carefully control salt, sugar and fat levels and many of the meals are suitable for special diets. Look for the colour-coded symbols indicating diabetic, lower fat, reducing, moderate salt, gluten free and vegetarian options.

Wiltshire Farm Foods extensive menu has something for everyone - from hearty, traditional favourites such as roasts, pies and stews to more exotic dishes like Duck in Brandy Sauce, Coq au Vin and Fillet of Trout with Prawns. And if you fancy something sweet, a huge array of delightful desserts await to tantalise your taste buds ... from crumbles and puddings to cooler, refreshing choices such as cheesecakes and trifles!
Award-winning Scottish butcher meat. Fresh Ayrshire meat delivered across the UK Monday to Saturday.
Vodafone is the world's largest mobile phone network with a massive global brand and presence. In terms of coverage it is number 1 in the UK and has pioneered the development of 3G products and services.
The Vauxhall site offers the opportunity to buy any of their range of new cars. Some cars bought online can be delivered within a week.