Consumables
Filters
Shops
Currys PCWorld offers customers a vast range of over 3,000 products online including a constantly updated range of Web exclusives. From Washing Machines, Widescreen TVs to the Latest in Home Computing it caters for everyone.
Currys PCWorld has a 24 Hr Helpline, delivery 7 days a week (usually within 4 working days of order) and expert installation, all backed by a nation-wide network of over 380 stores.
View all 25 Offers
Ryman the stationer is a long established office product and stationery retailer, specialising in providing quality products to the home office, small office and student market. The online store carries their full range of merchandise and additional Internet only products and they pride themselves in being able to source all office-related products for their customers.
Show +

£20 off voucher for Business Customers ...
Show +

£10 off Business Customers ...
7dayshop have been supplying photographic goods since 1998 offline, and since 2000 over the web. Their passion has always been to find the best products and sell them to you at the best prices.
Show +

Delivery Included Deals on 1
Show +

Products With Discount Voucher Codes
PrinterInks is one of the largest ink distributors in the United Kingdom. They carry a wide range of compatible, remanufactured and OEM ink and toner cartridges as well as additional office accessories such as batteries, cables, and more!
View all 15 Offers
Partmaster (part of the Dixons Group) has an amazing range of over 5000 products online including accessories for over 15,000 individual handheld PCs, camcorders, digital cameras, mobile phones, laptops, TVs, vacuum cleaners, GPS units, and printers. Whether you're looking for a replacement remote control, batteries, an instruction manual, a part for a vacuum cleaner or food mixer, you'll find them all here.
Novatech have been trading for more than 18 years and serving over 1,000 customers every day! We have more than 12,000 products available and have sold over 3 million products through our website, catalogue and showroom.

We're one of the UK's top mail order computer suppliers employing over 100 people at our 35,000 sq ft complex near Portsmouth. By carefully monitoring stock levels we can ensure that while you will rarely have to wait for an order, you can also take advantage of immediate price drops on components - translating into the values you see in our prices.
If you are looking for office supplies then this is the site - you'll find over 15,000 office supplies products at 20%-80% off retail prices, low price guarantee, free no-hassle returns and free 30-day credit account facility.
The Ink Factory sells such a wide range of original, compatible and remanufactured ink cartridges and inkjet refill kits that they are very likely to have the cartridge you're looking for. They offer a 100% satisfaction guarantee.
View all 6 Offers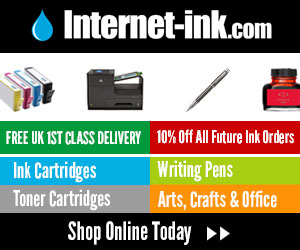 One of the UK's biggest online cartridge shops for ink cartridges, toner cartridges, writing pens & office supplies, with amazing customer service always included. Specialists in Epson, Brother, Canon, HP compatible ink cartridges, compatible toner and original versions also held in stock.
Cartridge People have been supplying ink and toner cartridges to consumers via the web for 10 years.

They now also stock paper, stationery, light bulbs, PC accessories and small electrical gifts.
View all 10 Offers