Cycling
Filters
Shops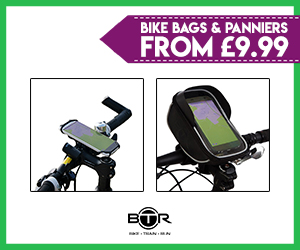 We are a small family based business based in Sussex. Our range includes cycling bags, panniers and accessories as well as a range of high visibility clothing and accessories
Show +

10% BTR Waterproof Heavy Duty Bike Cover
Show +

£5.00 BTR Universa Fitting Bike Phone Holder Mount
Show +

15% Off BTR Bike Phone Holder
Show +

10% Off All Orders
Leisure Lakes Bikes offer a huge range of bikes, accessories, parts, clothing, shoes and helmets designed to cater for all levels of cyclist from children through to professionals. Leisure Lakes offers FREE DELIVERY on all clothing, parts and accessories with NO MINIMUM ORDER VALUE and a wide range of payment options. Leisure Lakes Bikes stock many of the top cycling brands, with a huge selection for both road and mountain bikers as well as offering fantastic deals in the comprehensive Sale sections.

Leisure Lakes Bikes boast 8 stores Nationwide, a range of 0% typical APR finance options for orders over £300, VIP membership offering further exclusive customer savings, a promise not to be beaten on price and fantastic after sales support.
The Hut is a leading luxury online department store bringing you the very best from their breadth and depth of quality, luxury brands. They specialise in fashion, homeware, beauty, and lifestyle products. Whether you're looking to update your wardrobe, home, or even treat a loved one, they have something for everyone.
Show +

Mid-season Savings
Show +

15% off for new customers
Cotswold Outdoor is an online adventure store with over 4500 products from top brands such as Helly Hansen and the North Face. This site has all the clothing and equipment you could need for adventure travel, snow sports, mountain biking, hiking, camping, and climbing.
Now selling surfwear: the latest fashions from Quiksilver and Animal with everything from the tiniest of tops to trousers and sweatshirts in all the latest summer colours.
Exclusive outlet for Troll, Mountain Equipment and Macpac.
A wide range of goods organised by department as well as a good selection of gifts and food hampers. Departments include Audio and TV, Lighting, Electrical Appliances, Furniture, Toys, Sports and Leisure and Clocks and Watches.
As the UK's number one car accessory retailer, Halfords offer a selection of their top selling and latest new lines in car enhancement, car security, in-car entertainment, load carrying, touring & travel, car care, children's bikes and cycle accessories together with a selection of their best selling gift ideas.
QD Stores is a major UK discount retail outlet that stock a huge range of quality discount items, from furniture, homewares and electrical goods, to toys, clothing and pet supplies. QD's low profit margin strategy ensures that most items for sale on the QD website are highly price competitive, with very few merchants able to beat them on price.
Show +

Save £8 with £100+ spend
Show +

Get £10 off with £150+ spend
Merlin Cycles are one the UK's longest established Online Bike Shop and mail order specialist in operation today. Established in 1992 Merlin quickly became one of the best known sources for all the top quality mountain bike equipment and more recently road bike equipment from the most respected manufacturer's at the most competitive prices.
Chain Reaction Cycles is the world's largest online bike store. They have a staff of over 350 and a 100,000 square foot warehouse so you will get excellent customer service, great prices and a huge choice.
Show +

Free Shipping on orders over £20
Rutland Cycling began life as a small family operated hire centre located at Whitwell on the north shore of Rutland Water. Originally consisting of a fleet of just 80 bikes, the hire centre quickly developed into a busy retail store which is now selling online.