Luggage
CATEGORIES
Shops
House of Fraser is Britain's leading retailer of designer brands and one of the best known names on the UK high street. With 61 enviable locations across the country, House of Fraser has presented customers with an unrivalled national department store for more than 150 years and is now offering the opportunity to buy online.
View all 7 Offers
The Range is a chain of department stores spread around the UK. It has products ranging from DIY, Homewares, Furniture, and Lighting to Arts & Crafts and Garden.
QD Stores is a major UK discount retail outlet that stock a huge range of quality discount items, from furniture, homewares and electrical goods, to toys, clothing and pet supplies. QD's low profit margin strategy ensures that most items for sale on the QD website are highly price competitive, with very few merchants able to beat them on price.
View all 7 Offers
Simon Carter is a British designer fashion brand established in 1985 which thrives on inspiration gleaned from a vast array of sources including the worlds of fine art, the decorative arts, architecture and couture through the ages.
View all 31 Offers
Lightweight travel luggage, laptop bags, duffle bags, backpacks and more.
Suitcases, briefcases, handbags and rucksacks.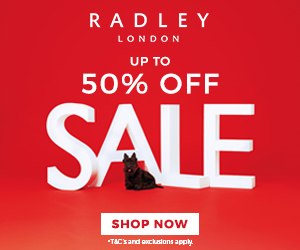 Radley is the leading British designer handbag and accessories brand in the UK.

As well as handbags and small leather, the product range also includes luggage, scarves, umbrellas and sunglasses.
Home Appliances, Domestic Appliances and Kitchen Appliances. An extensive range of home, domestic and kitchen appliances and service second to none.
MyBag is an online handbag & accessories boutique dedicated to offering stylish, glamorous, covetable accessories for all occasions.

Showcasing desirable brands including Mischa Barton, Nica, Ameko, Ri2k and Max C London the boutique presents the latest trends in an accessible, yet aspirational online environment with free UK delivery on all orders.
Show +

Up to 60% off the My Bag outlet
Show +

Take 30% off Your Favourite Bags and Accessories with MyBag's Sale Preview
Show +

15% off your first order
A wide range of tickets for concerts, sporting events and theatre - as well as tickets for travel, holidays, accommodation, travel guides, luggage and more. Once you've been away, why not sell your used travel guides and make some money?