Special Occasions
CATEGORIES
Filters
Shops
MODES is an Italian brand of luxury clothing, bags, shoes and accessories. Explore the greatest selection of luxury in our online store.
Bringing you millions of products from thousands of sellers, OnBuy is an innovative and rapidly growing online marketplace. As a direct Amazon alternative, OnBuy delivers fantastic choice and even better value. Our low fees for sellers mean big savings for you - whether you're buying Toys, Tools or the latest in Tech!
Next reopened its website on April 14th after two weeks offline. They are only fulfilling a certain number of orders a day to keep the staff safe and delivery will take up to 3 days.
Shop the latest women's, men's and children's fashion plus homeware, beauty and more.
Boden sells competitively priced, well made, individual clothing that doesn't date.
House of Fraser is Britain's leading retailer of designer brands and one of the best known names on the UK high street. With 61 enviable locations across the country, House of Fraser has presented customers with an unrivalled national department store for more than 150 years and is now offering the opportunity to buy online.
LN-CC.COM is an online platform that mixes avant-garde fashion, books, music and limited worldwide releases. Their brands range from mainline collections such as Givenchy, Balenciaga, Jil Sander, Rick Owens, Maison Martin Margiela and Dries Van Noten to Japanese labels - most of which are exclusive to them outside Japan - and up and coming designers from around the world.
Show +

VIP Private Sale (Affiliate Exclusive) - Up to 50% Off SS20 (WW)
Show +

VIP Private Sale (Affiliate Exclusive) - Up to 50% Off SS20 (WW) - WWW
The Dressing Room in St Albans is a multi award winning boutique mixing established with niche brands and local designers.

Top brands include American Vintage, Ash Shoes, Becksondergaard, ChloBo Jewellery, Hudson Jeans and J Brand Jeans.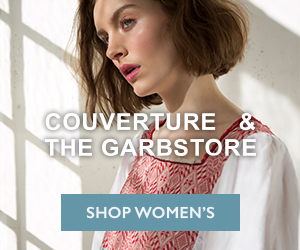 Couverture & The Garbstore is an independent high-end outfitter based in Notting Hill. Selling womenswear, accessories, childrenswear, homewear and its own menswear brand The Garbstore.
Show +

Free Shipping over £150
www.couvertureandthegarbstore.com
A leading retailer of shirts, ties, suits and more for both Men and Women.
Why buy from T.M.Lewin? Basically because no-one else offers the same quality at such a low price.
Founded in Pennsylvania, Anthropologie now has several stores in the UK. Find beautiful clothing and accessories for women and delightful homewares.
Show +

Shop Sale Items Under £25 ...
Show +

Shop Sale Items Under £100 ...
Show +

Shop Sale Items Under £75 ...
Show +

Shop Sale Items Under £50 ...