The Wine Merchant
CATEGORIES
Filters
Shops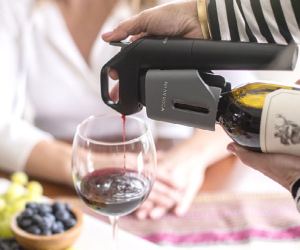 Drink the wine you want, without compromise. Pour the wine you desire, and save the rest of the bottle for weeks, months, or even years.
Show +

Get the Coravin Model Three Wine Passion Pack for only £249.00
Show +

Get the Coravin Model Three Wine Lover Pack for Only £229
Show +

Get the Coravin Model Three for only £199.00
Show +

Get Free Shipping on All Coravin Wine System Orders
Wines, Spirits, Beers. Buy online or visit our stores. Constantly evolving wine list from exciting new producers to tried & tested favourites. Great prices, next day delivery and amazing Slurp Deals.
This site has a huge selection of alcoholic beverages including wine and champagne, whisky, spirits and beer and cider, as well as a good selection of soft drinks.
Ethical Superstore offers fair trade and green consumer products from the world's leading ethical brands.

Ethical Superstore offers access to all the major fair trade and green brands including Cafedirect, Traidcraft, Green & Blacks, Divine, Ecover and many more. The full range includes gifts, cosmetics, foods, beverages, CDs, books, DVDs plus handmade lifestyle and fashion products.
Fortnum & Mason is a central London department store. It has two other branches in Japan and holds a Royal Warrant. First established in 1707 by William Fortnum and Hugh Mason, it is one of Britain's iconic brands.

At Fortnum & Mason's online store you can experience the unique shopping experience of Fortnum's London, filled with hundreds of wonderful gifts, world-famous hampers, together with food, wine and accessories.
Choose from over 800 wines. Some great offers on the front page.
Minimum order is 12 bottles of wine or 6 bottles of champagne.
The online site of this high street chain is very easy to use and offers a wide selection of wines and spirits. Also available are beer, water, soft drinks and accessories but these can only be ordered with wines or spirits and the delivery may be restricted. There is information about each wine, competitions, gift shopping, and much more.
Laithwaite's began in 1969, when Tony Laithwaite took a job washing bottles in Bordeaux ... and fell in love with real wine and the people who make it. When he borrowed a van to share these delicious wines with friends and neighbours at home, things went so well that boutique wineries were soon queuing to take part. Today they are the UK's No.1 home-delivery wine merchant, with over 1,500 wines to choose from ... including red, white and rosé, plus Champagne and sparkling, beer and cider.
Show +

But pick up two cases for the LOWEST price … just £7.99 a bottle
M&S is one of the UK's leading retailers of clothing, foods, homeware and financial services with high street shops nationwide.

Online you can shop from Womenswear, Lingerie, Menswear, Kidswear, Homeware & Furniture, Wine, Flowers and Gifts and Entertainment.
Now that stores around the country increasingly seem to resemble each other, Selfridges is unmistakably unique. Selfridges believe that, at its best, the experience of shopping should be extraordinary, captivating and inspiring.

Selfridges offer shopping at its best, from their famous head-turning window displays to the sheer range and quality of products in-store. Where else could you find the latest in computer technology, luxurious homewares, must-have designer fashion and a feast of mouth-watering food and drink, all under one roof? And now - all on one website!