Chocolates and Sweets
CATEGORIES
Filters
Shops
Since it was established in 1965, Ambala has become one of the most prestigious confectionery and savoury brands in the world. The unique recipes of the founder, and the uncompromising use of only premium quality ingredients remain the secret of Ambala's unrivalled quality and taste. Ambala's passion for innovation combined with its deep sense of tradition, ensures every mouthful you endulge in is a truly pleasurable and memorable experience.
Handy Candy is an online sweet shop specialising in retro sweets, old fashioned favourites, gift boxes, jars and luxury hampers. Established in 2004, we are the UK's favourite sweet shop with thousands of reviews from our happy customers.
Welcome to www.lovehearts.com! An imaginative range of gifts and ideas based on the universally loved brand. Whether you're celebrating a birth, birthday, wedding or looking for a special way to tell someone how you feel, then there's no better way than to say it with sweets. We are unique in the wedding market. We are the only company that makes and sells JUST MARRIED and MARRY ME wedding favours and Love Hearts.
Show +

Free Swizzels Lip Balm gift set for orders over £16
Cadbury Gifts Direct - the simple, convenient way to gift Cadbury chocolate.

Choose from a wide range of delicious Cadbury products including many not available in shops or supermarkets. Features a 'pick and mix' section to create your own unique Cadbury hamper.
Kitchen goods and bakeware. Lakeland sell an unrivalled collection of the best in kitchenware and home storage. Over the last 40 years Lakeland has become synonymous with innovation, quality, value and the very best in customer service.
Fortnum & Mason is a central London department store. It has two other branches in Japan and holds a Royal Warrant. First established in 1707 by William Fortnum and Hugh Mason, it is one of Britain's iconic brands.

At Fortnum & Mason's online store you can experience the unique shopping experience of Fortnum's London, filled with hundreds of wonderful gifts, world-famous hampers, together with food, wine and accessories.
The Hotel Chocolate Tasting Club is brought to you from Hotel Chocolat. It all comes down to one simple but endlessly exciting word, passion - Hotel Chocolat's for fresh, authentic and original chocolates; their chocolatiers' for creating true masterpieces; and their members' for tasting and rating them.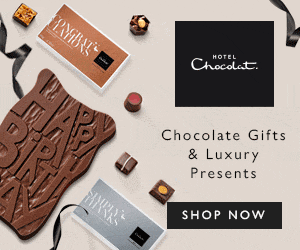 Hotel Chocolat offers the finest chocolates money can buy.
Using quality, authentic ingredients is an ethos that has been fundamental at Hotel Chocolat since the beginning and the 'no nasties' approach bans the use of additives such as hydrogenated vegetable fat and artificial colours in order to let the pure chocolate flavours and aromas through.
Hotel Chocolat Tasting Club
vouchers make great gifts.
An award winning website from Chocolate Trading Company retailing the widest selection of premium chocolates from around the world, from over 15 leading chocolatiers. All categories of chocolate are available from single origin gourmet bars to stylish assorted gift boxes and unique novelties. They have some amazing Easter Eggs and Mothers Day gift ideas.
Thorntons, the highstreet chocolate shop, also has a selection of fine wines, flowers, hampers, and other gift ideas.