The Sweet Shop
CATEGORIES
Shops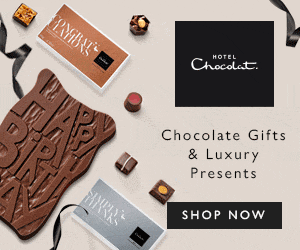 Hotel Chocolat offers the finest chocolates money can buy.
Using quality, authentic ingredients is an ethos that has been fundamental at Hotel Chocolat since the beginning and the 'no nasties' approach bans the use of additives such as hydrogenated vegetable fat and artificial colours in order to let the pure chocolate flavours and aromas through.
Hotel Chocolat Tasting Club
vouchers make great gifts.
Show +

3 for £10 on Selected Valentines Chocolate
Show +

2 for £10 on Selected Valentines Chocolate
Show +

Valentine's Day Gifts ...
Virginia Hayward is renowned for offering an extensive range of quality hampers and gifts, featuring the finest food and wines from around the world. Beautifully presented, and designed to suit all budgets, Virginia Hayward's fantastic selection of hampers, champagne, wine and chocolate gifts ensures a gift for all occasions for both men and women.
Cadbury Gifts Direct - the simple, convenient way to gift Cadbury chocolate.

Choose from a wide range of delicious Cadbury products including many not available in shops or supermarkets. Features a 'pick and mix' section to create your own unique Cadbury hamper.
Show +

Daim Selection Box
Show +

Bournville Selection Box
Show +

Cadbury Let It Snow Gift Box
Show +

Oreo Adventure Gift Box 75% OFF now £3
UK online sweet shop selling traditional, old-fashioned sweets. Find all your favourite sweets from childhood.
Artbox is a specialist retailer focusing on cute and quirky gifts, stationery and clothing mainly from Japan and Korea. Brands include Hello Kitty, San-X, Artbox and Sugar Hotel.

There are a small number of shops in the UK and concessions in stores like Top Shop.