Outdoor Pursuits
CATEGORIES
Filters
Shops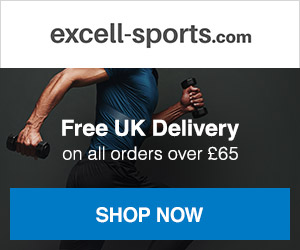 Shop designer sportswear, branded training equipment and sports clothes at Excell Sports.
Badminton, basketball, boxing, croquet, tennis, soccer, netball, pool, trampolines, table football, golf, squash, swimming, sailing, snooker, table tennis, rugby, fitness and cricket. Find a huge range of clothing, accessories and equipment with special offers and free delivery. Each sport has a separate department, once you enter the department you'll find all the items listed down the left side of the page and specials on the right. Don't be put of by the lack of anything in the centre of the page!
Golf
Balls, clubs, full sets, bags, clothing, shoes and a full range of accessories.
Fitness
Dumbells and weights, rowing machines, exercise bikes, treadmills, body fat monitors, heart rate monitors and lots, lots more.
Show +

5% off all Proform Products
Show +

7% off all Tennis Rackets
Show +

6% Off Badminton Rackets
Show +

5% off all NordicTrack Products
Blacks is one of the high street's best-known names, offering quality products and friendly, knowledgeable advice throughout 104 stores nationwide. From Berghaus and The North Face to Karrimor and Salomon, Blacks has both the understanding and the capability to meet their customers' high standards.
Show +

15% Off All Clothing
Show +

Price Promise Always 10% Better
Show +

Calling All Students
The Range is a chain of department stores spread around the UK. It has products ranging from DIY, Homewares, Furniture, and Lighting to Arts & Crafts and Garden.
Established in 1958, Tog 24 now has 50 stores in the UK and abroad selling a wide variety of outdoor and snowsports orientated clothing for men, women and children. Many products are still manufactured in the UK. The new website features special offers, an extended range, news and events and more.
Cotswold Outdoor is an online adventure store with over 4500 products from top brands such as Helly Hansen and the North Face. This site has all the clothing and equipment you could need for adventure travel, snow sports, mountain biking, hiking, camping, and climbing.
Now selling surfwear: the latest fashions from Quiksilver and Animal with everything from the tiniest of tops to trousers and sweatshirts in all the latest summer colours.
Exclusive outlet for Troll, Mountain Equipment and Macpac.
Millets is one of the high street's best-known names, offering quality products and friendly, knowledgeable advice in over 280 stores nationwide. From Peter Storm and Eurohike to Berghaus, Columbia and Coleman, Millets has both the understanding and the capability to meet our customers' high standards.
As the UK's number one car accessory retailer, Halfords offer a selection of their top selling and latest new lines in car enhancement, car security, in-car entertainment, load carrying, touring & travel, car care, children's bikes and cycle accessories together with a selection of their best selling gift ideas.
QD Stores is a major UK discount retail outlet that stock a huge range of quality discount items, from furniture, homewares and electrical goods, to toys, clothing and pet supplies. QD's low profit margin strategy ensures that most items for sale on the QD website are highly price competitive, with very few merchants able to beat them on price.
Show +

Save £10 with £200+ spend
Show +

Save £5 with £70+ spend
Show +

Save £3 with £40+ spend
Rohan is the leading authority in functional travel clothing.
Rohan clothing is lightweight, packable and easy to care for - our designs arise from a rationale of fitness for purpose, versatility and usefulness.
View all 6 Offers