Women's Clothes
Results from Shopping.com
Powered by
CATEGORIES
Filters
Shops
Farfetch is the ultimate online designer shopping destination with designer labels brought together from over 400 of Europe's most influential boutiques. From fashion's global names to its rising stars, farfetch.com is the place to shop for them all.
The Superdry brand has attained international recognition thanks to its wide appeal, capturing elements of both "preppy" and streetwear designs with a subtle combination of vintage Americana and Japanese imagery. Superdry offers T-shirts, jeans, sweaters, joggers, hoodies, jackets, shirts, rugby shirts, polo shirts, footwear, as well as bags and accessories. Superdry currently has 76 UK standalone Cult and Superdry retail stores and is sold in 91 countries worldwide. Superdry has enjoyed celebrity-generated publicity from the likes of David Beckham, Zac Efron and Helena Christensen, to name but a few.
Aftershock is a luxury British brand and is one of the leading designers, retailers and manufacturers of exquisite hand-crafted womenswear and accessories. Aftershock's fashion signature is the use of exuberant colour schemes and beautiful design work and offers an array of the finest intricately beaded ladies wear, casual wear as well as stunning accessories to complement the collection. Celebrity followers include Madonna, Helen Mirren, Charlotte Church and Katherine Jenkins to name but a few!
View all 10 Offers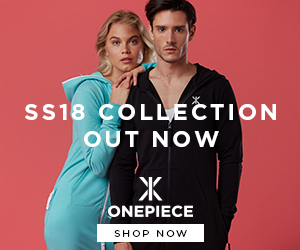 Since Onepiece's first jumpsuit created on a lazy Sunday by three friends in 2007, the brand has created a global phenomenon; the connection of premium street style with the ultimate comfort wear.

Today, Onepiece is one of the world's top 100 fashion brands on Facebook (1+ million fans) and is worn by the world's biggest influencers including Beyoncé, Gigi Hadid, Justin Bieber, Cara Delevingne and Taylor Swift.

Onepiece leisurewear ranges from stylish jumpsuits, joggers and jackets to premium hoodies and t-shirts.
The Savile Row Company produces some of the finest luxury clothing available in the UK today.

Prices start at around £30 for a superb Swiss Cotton shirt and around £300 for a crease resistant all Italian wool suit.
Show +

New Offer For Spring 10% Off Sitewide
Oxygen is London's coolest independent fashion boutique. It is a unique retail concept that has grown from extensive experience of the fashion industry and an intrinsic ability to identify the wardrobe needs of women in the UK.
Since its inception, Boda Skins has been characterized by its commitment to crafting timeless pieces for the modern tastemaker, translating classic wardrobe staples into luxurious must-have looks. Using only the finest materials, Boda has become a premier destination for those who share the brand's commitment to stylistic integrity and quality without compromise.

Designed in Manchester and fashioned in the hills of southern Turkey in the village of Sucati, Boda Skins celebrates the perfect union of style and luxury. Under the direction of founder Nathan Alexander, the label has managed to marry great British design with quality Turkish craftsmanship, resulting in leather to love forever.
Specialising in shoes, bags, clothing, small leather goods and jewellery, the Larizia boutiques are widely regarded as one of the leading independent stores in the UK today. Through their stores in St Johns Wood and Temple Fortune Larizia offers customers the best selections of seasonal must-haves from designer collections such as Miu Miu, Gucci, Stella McCartney, Balenciaga, Alexander McQueen, Chloe, YSL, Dolce & Gabbana, Mulberry, Lanvin, Sergio Rossi, Ash, Marc Jacobs, Anya Hindmarch, Marni, and Celine as well as some of the hottest up-and-coming designers.
Triads have a huge range of popular designer clothing from brands such as Stone Island, Vivienne Westwood, Paul Smith and Stussy and many others. They have managed to remain at the forefront of cutting edge fashion, retaining their cultured, cool status and have a reputation in the industry as a cutting edge retailer.
GANT is a lifestyle brand with an American Sportswear Heritage. They offer ranges for men, women, children and home as well as GANT Rugger and GANT by Michael Bastian.
Show +

20% Off Flash Sale