Women's Clothes
CATEGORIES
Filters
Shops
Trilogy Stores is your one-stop shop for premium designer clothing to make a sophisticated statement. Shop designer denim and more with free UK delivery.
On-line shopping can still be a social event. Be our guest of honor and let us offer you a unique, enjoyable, and easy-to-use shopping experience by engaging most of your senses. At Optimum Outfit, we consider and we treat our customers as EIP (Extremely Important People). To this end we redefine the customer experience at every level. We consistently exceed expectations and take initiative to constantly raise the level of service we provide. We offer modern yet timeless, essential and iconic clothing labels, excellent quality, impeccable design, fast and reliable delivery. Optimum Outfit aims to give a more personal approach to online shopping by engaging most of your senses, including everything from shopping process to high-end packaging. Allow us to awake your senses and delightfully surprise you!
Show +

Take 15% off products on 'Warm Stuff' page ...
Show +

Take 15% off products on 'Sandal' page ...
Show +

Free delivery for orders of £60 / €70 and more
Springfield Camping is your one-stop shop for locating high-quality outdoor equipment suitable for every kind of trek.
Farfetch is the ultimate online designer shopping destination with designer labels brought together from over 400 of Europe's most influential boutiques. From fashion's global names to its rising stars, farfetch.com is the place to shop for them all.
The Superdry brand has attained international recognition thanks to its wide appeal, capturing elements of both "preppy" and streetwear designs with a subtle combination of vintage Americana and Japanese imagery. Superdry offers T-shirts, jeans, sweaters, joggers, hoodies, jackets, shirts, rugby shirts, polo shirts, footwear, as well as bags and accessories. Superdry currently has 76 UK standalone Cult and Superdry retail stores and is sold in 91 countries worldwide. Superdry has enjoyed celebrity-generated publicity from the likes of David Beckham, Zac Efron and Helena Christensen, to name but a few.
Show +

2 Mens Polos for £55
Aftershock is a luxury British brand and is one of the leading designers, retailers and manufacturers of exquisite hand-crafted womenswear and accessories. Aftershock's fashion signature is the use of exuberant colour schemes and beautiful design work and offers an array of the finest intricately beaded ladies wear, casual wear as well as stunning accessories to complement the collection. Celebrity followers include Madonna, Helen Mirren, Charlotte Church and Katherine Jenkins to name but a few!
Show +

20% Off Dresses ...
Show +

15% Off all handbags ...
Show +

Further 10% Off Outlet items ...
Show +

Spend £50 and get 30% Off anything ...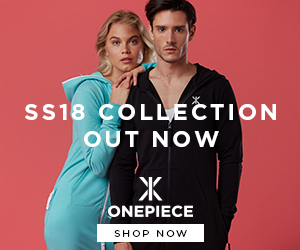 Since Onepiece's first jumpsuit created on a lazy Sunday by three friends in 2007, the brand has created a global phenomenon; the connection of premium street style with the ultimate comfort wear.

Today, Onepiece is one of the world's top 100 fashion brands on Facebook (1+ million fans) and is worn by the world's biggest influencers including Beyoncé, Gigi Hadid, Justin Bieber, Cara Delevingne and Taylor Swift.

Onepiece leisurewear ranges from stylish jumpsuits, joggers and jackets to premium hoodies and t-shirts.
A wide range of goods organised by department as well as a good selection of gifts and food hampers. Departments include Audio and TV, Lighting, Electrical Appliances, Furniture, Toys, Sports and Leisure and Clocks and Watches.
Show +

Save on selected pushchairs
Show +

Buy a Google Mini + Chromecast for £59
Show +

Great offers on fridge freezers
Show +

Save up to 20% on selected outdoor furniture
Modern funky threads with an urban twist! The product lines include Jeans, Trousers, T-shirts, Shirts, Jackets, Sweats, Hoodies, Jumpers, Long Sleeve Tops, Shoes and Accessories.
The online site of the high street chain. Clothing for women size 16-26. Some lines go up to 32. Easy to use site with good quality photos.