Wedding Gifts and Accessories
CATEGORIES
Filters
Shops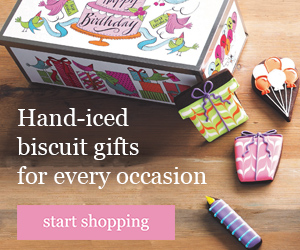 "Why send flowers when you can send biscuits instead?"

Biscuiteers provide beautiful hand crafted biscuits, chocolates and cakes suitable for any celebratory occasion.
Graham and Green is a prestigious, award-winning London Interiors Company who specialise in selling furniture, homeware, fashion, accessories and gifts at competitive prices. They are a family run business of 34 years with 5 retail outlets and a strong mail order business.

The site has a wide choice of beautiful and unusual gift ideas for the whole family.
View all 10 Offers
Etsy is a marketplace where people around the world connect to buy and sell handmade and vintage goods.
Beautiful gifts for you, your kitchen or your loved ones!

Choose pottery by pattern or shape. Emma's earthenware is made by hand in her factory in Stoke-on-Trent, Staffordshire. The spongeware patterns are decorated entirely by hand and all the pottery is dishwasher and microwave safe.

You can also buy glass, melamine, tins, textiles and stationery. You can also personalise the pottery for a really special present.
Shop at Oxfam online! There are the usual Oxfam goodies as well as a huge selection of second hand and vintage clothes, music, dvds, books and homewares. Also find wedding favours, rare books, ceramics, stamps and coins.
Show +

20% off fairtrade products
Looking for a wedding gift? Confetti has a great selection of gifts for all occasions, as well as an extensive and stylish range of party products and wedding favours. They also have a popular and easy to use gift list for couples with a choice of over 2,000 gift ideas from under £5 to over £1000.
For Christmas there are Cards, Party Accessories, Stocking Fillers and much more.
With over 25,000 products and hundreds of exciting and inspirational ideas on our blog, you'll discover everything you need to get crafty. Including...
Sewing Machines and Haberdashery
Art Materials
Knitting
Card Making
Kids' Crafts
Baking
Model Making
Wedding and Party Supplies
Show +

UK's Largest Arts and Crafts Retailer
Show +

Join the Hobbycraft Club and Get 15% Off Your First Purchase
Show +

3 for 2 on Selected Knit Brands ...
Studio offers the latest fashions, cards and wrap, gifts, toys, household and electrical goods. We also offer hundreds of products that can be personalised at no extra charge, including cards, toys and gifts as well as many clothing items.
A good gift site packed with ideas - everything from indoor remote-control helicopters to wedding presents, massage oils and cuddly toys. The site quick and easy to browse, and for lazy shoppers there's a personal gift-suggestion service.
Wedding Stationery, Wedding Dresses, Men's Formal Wear Hire and Wedding Outfits - as well as a good selection of wedding gifts.