High Street stores in The Gift Shop
CATEGORIES
Filters
Shops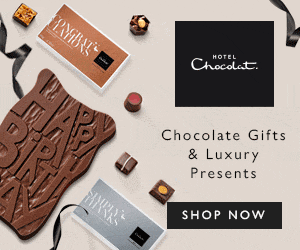 Hotel Chocolat offers the finest chocolates money can buy.
Using quality, authentic ingredients is an ethos that has been fundamental at Hotel Chocolat since the beginning and the 'no nasties' approach bans the use of additives such as hydrogenated vegetable fat and artificial colours in order to let the pure chocolate flavours and aromas through.
Hotel Chocolat Tasting Club
vouchers make great gifts.
Hawkin's Bazaar offer a unique and extensive range of unusual toys, gifts, gadgets and curiosities: 'Things you thought had gone for ever, things you never even knew existed'. Their aim is to offer something for everyone, even the most difficult to buy for. There are over 800 items in the current range including games, puzzles, musical toys, gadgets, wooden toys, magic, jokes, arts and crafts, educational kits and of course hundreds of stocking fillers for all ages. They even supply ready-filled Christmas stockings!
View all 6 Offers
Looking for a wedding gift? Confetti has a great selection of gifts for all occasions, as well as an extensive and stylish range of party products and wedding favours. They also have a popular and easy to use gift list for couples with a choice of over 2,000 gift ideas from under £5 to over £1000.
For Christmas there are Cards, Party Accessories, Stocking Fillers and much more.
A wide range of goods organised by department as well as a good selection of gifts and food hampers. Departments include Audio and TV, Lighting, Electrical Appliances, Furniture, Toys, Sports and Leisure and Clocks and Watches.
Great Little Trading Co (GLTC) is an award-winning retailer of children's furniture, home accessories and classic wooden toys. Founded in 1996, GLTC offers its own unique modern British designs to help parents create inspirational spaces for children which look good in the family home. Key products include smart storage for toys, books and clothes, children's bedroom furniture and bedding, curtains and rugs, desks and desk accessories, dressing tables and toys.
Show +

up to 25% off Bedrooms
Established in 1976, the Japan Centre Food Hall is a well-loved institution situated in Central London with an outpost in Westfield Stratford City. In 2005 Japan Centre Online was launched to bring the store experience to those living outside London and the UK.
You can now shop online for hundreds of gorgeous, innovative, sweet-smelling products that do exactly what they claim to do, inspired by nature, ethically made. All of your favourite products, 24/7 shopping, delivered direct to your door.
Thorntons, the highstreet chocolate shop, also has a selection of fine wines, flowers, hampers, and other gift ideas.
Show +

NEW Thorntons Pearls save 20% on both Nutty Crunch and Salted Caramel
Shop online with this high street store. Over 9,000 products in all sorts of departments. Great prices on furniture, electricals, mobile phones and a huge selection of toys.
The Works offers great value artist materials, books, art & craft supplies, gifts, toys and games.
View all 13 Offers