The Gift Shop
Results from Shopping.com
Powered by
CATEGORIES
Filters
Shops
Create your very own unique and customised cakes, boxes of cupcakes or helium balloons at bakerdays. They make it simple to choose a design, size and delicious recipe, and then personalise it with your own photos and a special message.
Show +

For this week only
Show +

Get 10% Off Personalised Cakes This Spring
The Superdry brand has attained international recognition thanks to its wide appeal, capturing elements of both "preppy" and streetwear designs with a subtle combination of vintage Americana and Japanese imagery. Superdry offers T-shirts, jeans, sweaters, joggers, hoodies, jackets, shirts, rugby shirts, polo shirts, footwear, as well as bags and accessories. Superdry currently has 76 UK standalone Cult and Superdry retail stores and is sold in 91 countries worldwide. Superdry has enjoyed celebrity-generated publicity from the likes of David Beckham, Zac Efron and Helena Christensen, to name but a few.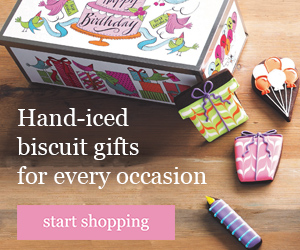 "Why send flowers when you can send biscuits instead?"

Biscuiteers provide beautiful hand crafted biscuits, chocolates and cakes suitable for any celebratory occasion.
Each unique Sabon scent collection is carefully created from highest-quality aroma extracts from around the world, by an international perfume expert. Careful consideration is given to every ingredient.
Light and colour – two things that together lift our mood, make us smile and generally put a spring in our step.

And that's where Cable & Cotton Fairy Lights can help. They sell colourful fairy lights in millions of possible colour combinations to liven up your living room, pep up your office, add some mood to your place of inspiration or act as a soothing night light for your child's bedroom.
Astrid & Miyu design unique yet wearable quality design jewellery.
ROX is one of the UK's most exciting and inspiring luxury jewelers. Specialising in breath-taking diamonds, luxury timepieces and cutting edge designer jewellery, ROX brings you contemporary classics, individual pieces and designs straight from the catwalk.
Melt Chocolates offer the best chocolates in London. They are handmade fresh on the premises every day by their chocolatiers. Melt is an award wining chocolate shop based in Notting Hill and is also available from Selfridges and Harrods.
Trouva offers instant access to over 10,000 products from London and Brighton's best independent boutiques. We offer a curated selection of unique home, fashion and gift items for the style-savvy shopper. We offer free worldwide shipping and Click & Collect or 1 hour delivery in London.
Hotel Chocolat offers the finest chocolates money can buy.
Using quality, authentic ingredients is an ethos that has been fundamental at Hotel Chocolat since the beginning and the 'no nasties' approach bans the use of additives such as hydrogenated vegetable fat and artificial colours in order to let the pure chocolate flavours and aromas through.
Hotel Chocolat Tasting Club
vouchers make great gifts.